Coordinates GPS: latitude N 46.48064° longitude E 6.83881°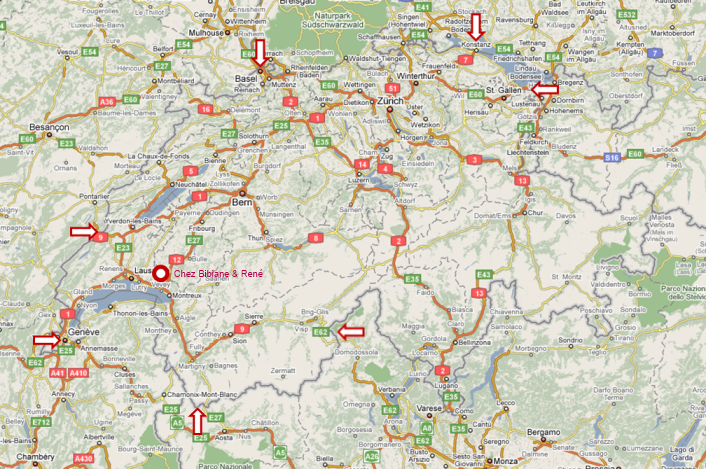 From France
Frontier:Basel / St-Louis
Basel: Motorway A3/E60 direction Zürich then, soon after the Basel exit, A2/E25 direction Bern
Junction with A1/E25 : direction Bern
Bern: careful, take A12/E27 direction Fribourg and not A1/E25 direction Lausanne
Direction Fribourg and not A12/E27 -> exit Châtel-St-Denis
TXT_SITUATION_FRANCE_FRONTIERE_1_PT_5
Frontier : Vallorbe
Vallorbe : follow A9/E23 direction Lausanne
Lausanne Ring road : take A9/E62 direction Vevey, Montreux, Grand St-Bernard until exit Chexbres
Chexbres: take right turn follow (brown) sign Plein Ciel to Chardonne (4.5km)
Chardonne: at the west entrance, follow sign to Plein Ciel staying on the main road which avoids the narrow village streets until the east entrance; continue a further 800m before the funicular stop on the left (wooden structure with Chardonne sign / newspaper shop), turn left direction the hotels Mont Pèlerin, climb 1km, passing in front of the Château de Chardonne, until a Swedish style villa on your right, you will see parking on your left-hand side. Park in front of, or between, the 3 garages with white doors.
Frontier : Geneva
Geneva: take A1/E25 direction Lausanne until you reach the ring road
Follow Ring road then refer to point 2 - 4 above (Frontier Vallorbe)
Have a good trip !
In case of difficulties to find us telephone : +41(0)79 475 10 42 ou +41(0)79 449 19 61